Salicylic acid is a chemical exfoliator from the Beta hydroxy acid family (BHA for short). Whereas physical exfoliators slough away dead skin cells using small particles (e.g., sugar, coffee grinds etc), chemical exfoliators work by dissolving the bonds that hold these cells together.

Salicylic, being a BHA, is the ideal ingredient for congested skin as
unlike AHAs, it's able to break through the oil on your skin (AHAs are only water soluble so they can't do this), reducing that congestion caused by dead
skin cells inside your pores.
How often can you use Salicylic Acid?

We recommend using our Salicylic Fix products 2-3x a week, however the cleanser and the day pads can be used once a day by those who have already been using salicylic products in their routine. If you have sensitive skin we recommend trying twice a week and building up from there.
Which skin type is Salicylic Acid best suited for?

Salicylic acid can be used on all skin types, however it is best suited for oily and breakout-prone skin as it is better at getting into your pores and helping stop the things that cause acne. That is because salicylic acid is more oil-soluble so it can get to work on oily skin and clogged pores, helping it to reach deeper than other ingredients.

However, our salicylic products are formulated with hydrating ingredients such as Aloe, as long as you follow with a hydrating moisturiser your skin shouldn't feel too tight or dry.
What are the main benefits?

Thanks to its pore-flushing abilities, with regular use you will see a reduction in breakouts, including whiteheads and blackheads.

The antibacterial and anti inflammatory benefits of salicylic acid also mean any spots you do get won't be as red and painful and will disappear quicker.

If blackheads are your concern, salicylic acid is a far more effective treatment option than pore strips.
Can it help with previous beakout marks?

Yes, it is considered a good treatment for acne marks and scars as it reduced redness and raised swelling on the skin. This means that not only will it fade the marks that are already visible, but it should help prevent dark marks forming post-breakout. Our Salicylic Fix Spot Patches are a great way to target specific blemishes and reduce the mark left behind.
How do hyaluronic acid and salicylic acid work together?

Salicylic and hyaluronic are a great combo! We recommend using hydrating products in the same routine with acids, as well as on alternate days. This will ensure your skin doesn't become irritated or dry from the use of your active ingredient.
It depends on the formula, we indicate on our product pages whether a product can be used at night, during the day, or both. The majority of our stronger salicylic acid treatments we recommend you use at night, followed by SPF the next morning.
Which ingredients should I use with it?

Combine salicylic acid with hydrating ingredients such as panthenol, hyaluronic acid or polyglutamic acid to reduce any potential irritation and keep your skin glowing, these can be incorporated into the same routine. Vitamin C is also great to combine with salicylic, but not in the same routine. So for example, you might use your vitamin C products in your morning routine, and salicylic in the evening.

Our Salicylic Fix products are created with hydrators inside the formulas to mitigate any potential drying effects, however if you have very dry or sensitive skin, you can incorporate our Hyaluronic Fix Extreme4 products alongside salicylic acid to hydrate the skin on a deep level.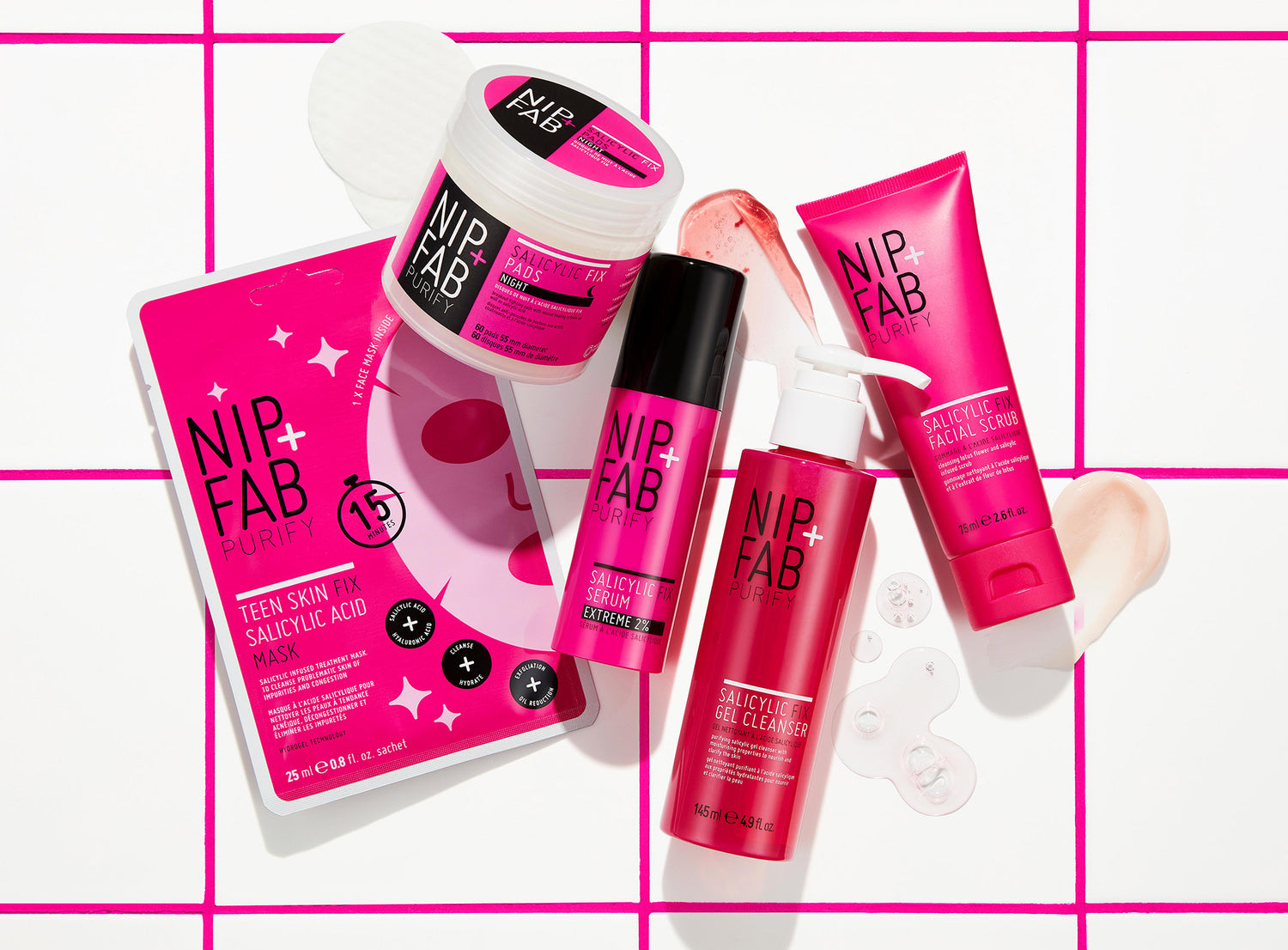 Buy the kit
Experience the full benefits of salicylic acid with the Salicylic Fix Regime Kit and enjoy a 40% saving.